Trend report - Shaping the future
How can technology help us form a sustainable future? What trends will become a part of our daily life sooner than we can even imagine? Book a presentation and I will share ideas, innovations and
insights from Scandinavia to Silicon Valley.
Nudging for behavioral change
Nudging is a method within behavioral science. Katharina is one of Europes leading experts on nudging for sustainability and how to change peoples behaviors towards the sustainable developement goals.
Watch Katharina pitching her company Nudgd in 40 words at Web Summit 2020.

Get your colleagues engaged
Do you feel like you are the only one in your organization who actually cares about the sustainability inititives? I help you get both the board of directors and all colleagues onboard in a fun and engaging way! Book a free consultation.
Interview on Swedish Radio
Interview with Sveriges Radio Klotet, A scientific radio program with Sweden´s largest audience for environmental news and feature.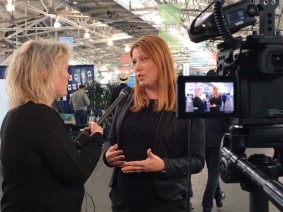 Action for sustainability
A lot of talking about sustainability but no action? Time to get into action and measurable results! Book an Action Lab with A Win Win World and I promise that you and your organization will get more done in one day than you could ever imagine.
Katharina is a well known public speaker with international speaking experience. Her favorite topics are smart sustainable cities, sustainable business, behavioral change and how tech for good can shape our future.
Here is a video from Katharina's Keynote at ChangeNow Summit 2020 in Paris.