Entrepreneur, public speaker and sustainaibility advisor with a true passion for sustainable business and sustainable lifestyle.
Founder and CEO of Nudgd. We match behavioral challenges with hands on solutions that gives measurable results in your sustainability initatives.
Co-Founder and Chair of Nudging Sweden - a network that
promote behavioral change for a sustainable future.
Founder and CEO of Wildflower Group helping businesses and startups to develop sustainable business models.
Co-Founder and Managing Director of A Win Win World - a global co-creation platform for a sustainable future.
Board Member at Ljusgårda Vertical Farming.
Member of the Advisory Board at VRexicon, the global SDG education library.
Member of Al Gore's Climate Reality Leadership Corps - a global
network of leaders who are committed to taking on the climate
crisis and raise awareness of how we can stop climate change.
Trained in public speaking, and leadership by Mr. Al Gore himself.
Region Coordinator for Climate Reality in the Nordics.
Previously
Founder and CEO of Brunat PR&Event, specialized in CSR-communications.
Founder of EcoBride - Sweden's biggest online club with
inspiration for ecoweddings.
Senior Advisor for the Cleantech Initiative at Nordic Innovation House in Silicon valley.
Mentor at Singularity University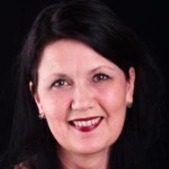 Katharina constantly exceeds expectations and makes a strong impression. She is highly professional with entrepreneurial focus, great leadership skills as well as a great team member, and very business minded. Katharina is driven, courageous, persistent, observant, warm and caring.
It is hard to find someone as committed as Katharina to solve the challenges of this world!

Birgitta Andrén Åkerblom
CEO
Medborgarskolan Väst